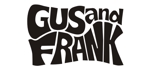 Popular independent 5-piece rock band from Melbourne, Australia. So Entertaining. Independent. Rock. Pop. Hilarious. Live. Confessions of a Rooftop Killer.
Gus&Frank were a rare breed. Essentially, these guys were a crazed live band with a unique instinct for entertaining through music and story-telling that is unlike any other you will have seen or heard. The sound is raw and manic with an unstoppable bass groove and mischievous vocal. Their riffs are warped and frenzied, yet undeniably addictive and the lyrics are sometimes twisted, sometimes touching. G&F will make you smile, get you dancing and leave you wondering where the hell songs like these come from.
Who the hell are Gus&Frank? Frank (who looks a little like the porno star from Boogie nights) loves Star Wars and fancies himself a chance for a role in the next George Lucas trilogy as Frank Skywalker, son of Luke, musical Jedi Master. Oh... and he's the singer. Gus writes the words and he dabbles with the basic melodies, but he can't sing for shit and that's where Frank comes in. Together with Chris, Hat, and Matty they form the band Gus&Frank. Within just three years of launch, Gus&Frank had sold over 15,000 albums with several singles on high rotation on commercial radio throughout Australia (and Antarctica!).
Confessions of a Rooftop Killer, Gus&Frank's debut album, peaked at #6 on the Indie Charts.
So Entertaining, Gus&Frank's debut single, made Triple J's hottest 100, reached #1 on Nova 19's and #2 on Triple J's Net50, leading to live performances on The Panel, five songs featuring on Rove Live, three national tours and top positions on commercial radio station countdowns nationally.
Gus&Frank were managed by Richard Vines and then Dominic Pym, an Australian technologist and entrepreneur, co-founder of Zudio Music and inventor, designer and original developer of Band Manager
© Copyright 2011 Zudio Music. All rights reserved.